Over 20,000 5-Star Reviews
(…and Counting)
You want premium blades at a fair price, and that's our guarantee. We built this company for our customers, judge our success by their appreciation, and are always grateful for — and often humbled by — their feedback. Our customers tell us we're making shaving better for them: read what they have to say, give us a try, and we hope you'll agree.
⭐⭐⭐⭐⭐
Best shave I've ever had
"I was skeptical about Harry's claims but I felt I couldn't do worse than the hugely uncomfortable shaves that I was getting from the major razor brands. This is one of the few companies whose claims are actual facts. Truly the best shave I have ever had, and the unbeatable price and convenience of delivery bring happiness to my soul. And that shave gel is Nobel Prize for Shaving material. Harry's makes this small but important part of my life perfect."
- Rich L.
⭐⭐⭐⭐⭐
Excellent products at realistic prices
"A few months ago I decided enough was enough when buying the big branded razors and decided to give an online company a try to see if I could get the same quality and still retain my left arm. I've never looked back and have already signed up two friends who also can't believe how good, and excellently priced (not to mention, convenient) these razors are."
- Shaun D.
⭐⭐⭐⭐⭐
Great products, great scents
"A coworker of mine who worked in the field always smelled like he ate a bar of soap and had one in each pocket. I was convinced there was no way he did anything that day. After I gave him a hard time about it day after day he told me he used Harry's products. He is all in razors, soap, body wash…I couldn't help but pick some up and I must say they are great products! Just because you work hard all day doesn't mean you have to smell like it."
- Travis R.
⭐⭐⭐⭐⭐
I had to touch to believe
"I was shocked when my hubby used this razor for the first time because it shaved closer than the name-brand blades we'd always used! I had to touch to believe but for us, the price is right, the quality is there, I love the home delivery, and the close shave is SO worth it! Satisfied customer family over here."
- K. S.
⭐⭐⭐⭐⭐
A high standard
"Harry's blades are of a high standard and their customer service is excellent. I don't shave very often and a pack of eight blades lasts for ages and instead of bombarding me with blades they let me tailor my order to suit."
- David P.
⭐⭐⭐⭐⭐
The best shaving experience
"This morning, I put Harry's to the test. Halfway through, I began to question why I waited so long to try. It was the best shaving experience - when I was finished I tossed the Gillette shaver in the trash."
- Jay H.
We're in the news… for good reasons
"The razor that revolutionized the shave industry…"


- Men's Health


"High-end products that don't command a high-end price tag."


- Esquire


"One of the most stylish razors on the market."


- GQ


Don't just take our word for it…
Trustpilot is one of the many places that real Harry's customers review their shave experience online. We've got a TrustScore of 9.4 out of 10.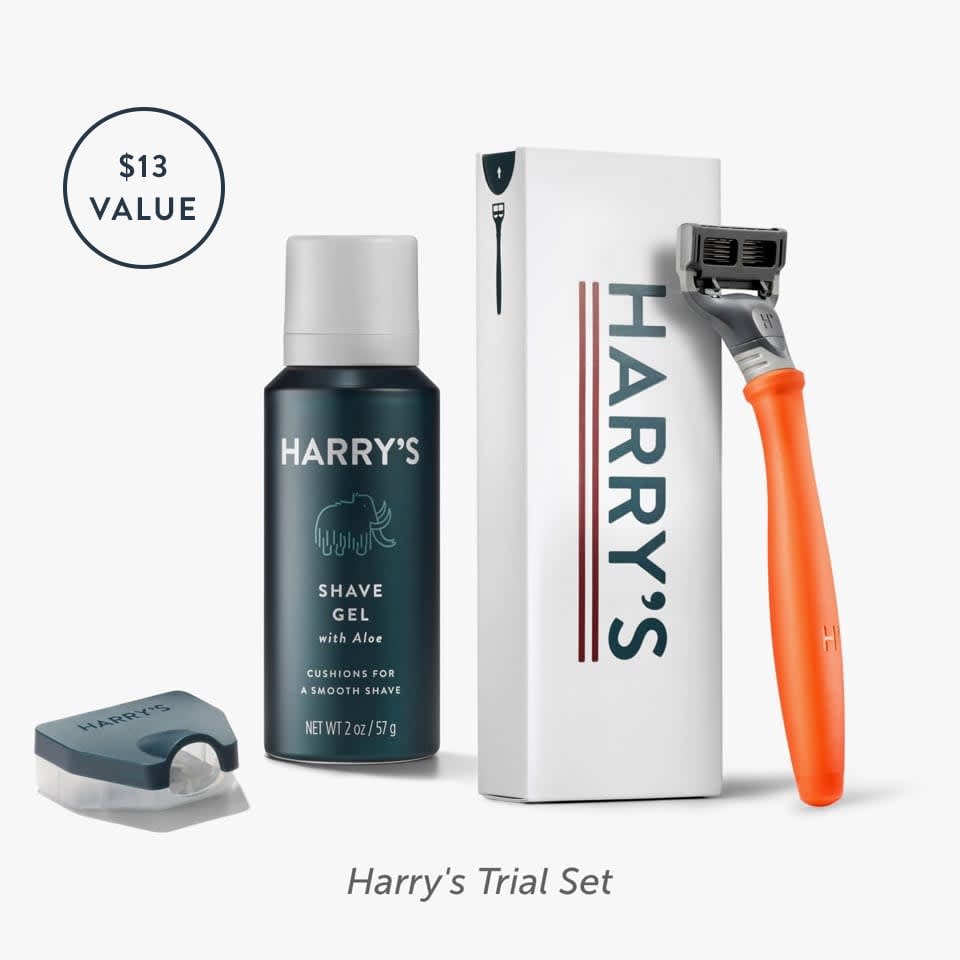 Decide for yourself
We know that switching to a new razor isn't an easy decision. That's why we created a trial offer so that you can experience the quality of a Harry's shave before committing.